NEW VOLVO XC90 HYBRID NEAR LOS ANGELES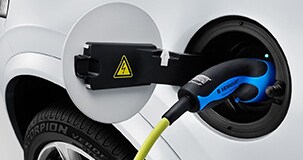 The advertised price and any advertised finance terms for this vehicle expire at the close of business 10/22/2020.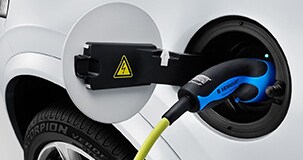 Experience a Green Luxury SUV with the 2020 Volvo XC90 in Pasadena
Volvo has made many advancements regarding the number of hybrids in its luxury vehicle lineup, and that's easy to see with the 2020 Volvo XC90 Hybrid. This hybrid version of the popular three-row SUV is brilliant in its style, design, features, and performance, and there are many drivers already enjoying theirs. Our Volvo dealership is the place to find the new Volvo XC90 Hybrid in the LA area, and we talk more about this stunning luxury hybrid SUV below.
Volvo XC90 Hybrid Performance
The Volvo XC90 has always been a dynamic luxury SUV, and the Volvo XC90 Hybrid further proves that by adding another layer of versatility to the three-row Volvo model. The Volvo XC90 Hybrid is a plug-in hybrid, which means you can power it either with a combination of the gas and electric motors or just use the electric motor for power. The Volvo XC90 Hybrid charges quickly and provides up to an 18-mile range from the battery, which is more than enough for running errands or commuting to work.
Hybrid vehicles prioritize efficiency, but the Volvo XC90 Hybrid manages to do that while offering a lot of power and capability. Every Volvo XC90 Hybrid for sale near Duarte comes standard with all-wheel drive, and the two motors combine to provide 400 horsepower and 472 pound-feet of torque. This all means that the Volvo XC90 Hybrid lets you get far on one tank of gas while still having the ability to excite and tow up to 5,000 pounds.
Design
The design of the 2020 Volvo XC90 Hybrid plays just as much of a role in its adaptability as the engineering, and it ensures relaxing rides no matter where you're heading. There is seating for up to seven passengers in the Volvo XC90 Hybrid, and there's still more space behind the third row if you're bringing along beach items or shopping bags. All that open space comes in a stylish package, too, as the Volvo XC90 Hybrid has a sleek exterior and stunning upholstery and surface options in the cabin. Whether its style or function that you're looking for, this luxury hybrid SUV has both./p>
Technologies
The plug-in hybrid system of the Volvo XC90 Hybrid shows how smart this luxury SUV is, but it's not the only item in it that does so. The plug-in hybrid Volvo XC90 also has technologies that make it that much simpler to enjoy the luxury SUV, and those features cover everything from entertainment to comfort. For example, the standard infotainment system of the Volvo XC90 Hybrid is compatible with Apple CarPlay and Android Auto, and you control those functions through the responsive touchscreen display. Other innovative features include a massage function for the front seats, which also have heating and ventilation, and a futuristic head-up display.
Safety
Volvo has always made safety a priority, and the 2020 Volvo XC90 Hybrid perfectly highlights all the ways Volvo models can keep passengers safe and secure. It reinforces the passenger compartment with boron steel while having whiplash-reducing seat designs, but the smartest of its safety features are the driver-assist technologies, which include:
City Safety Collision Avoidance Technology
Automatic Braking After Collision
Active Bending Lights
Blind Spot Information System with Cross Traffic Alert
360-degree view camera
Lane Keeping Aid
Adaptive Cruise Control
Get More Details on the Volvo Hybrids Around Los Angeles
We hope the info above highlights what the Volvo XC90 Hybrid offers West Covina drivers, and if you have other questions about what makes it such a great luxury SUV, you can always give us a call. Of course, the 2020 Volvo XC90 Hybrid is not the only Volvo hybrid for sale at our dealership, so if you're looking for a smaller SUV or a luxury sedan, we have a hybrid option for you!