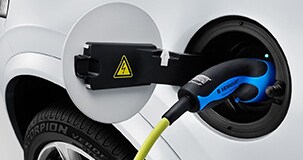 Get Your New 2019 Volvo XC90 near Los Angeles, CA
Luxury and eco-friendly performance combine in the new 2019 Volvo XC90 Hybrid. This full-size SUV has space for up to seven passengers and an impressive fuel economy to get you around Los Angeles without constantly having to refuel. Rusnak Volvo Cars has a showroom of new 2019 Volvo XC90 Hybrid models right here in Pasadena, CA. Our premier new Volvo inventory is available with the outstanding support our customers know and trust. From its spacious interior to its efficiency, do more in a new 2019 Volvo XC90 Hybrid from Rusnak Volvo Cars.
Performance and Fuel Economy
The 2019 XC90 Hybrid balances its impressive power with one of the leading fuel economies in its class. This SUV comes fitted with a 2.0-liter supercharged/turbocharged inline-four-cylinder + electric motor putting out a total of 400 net horsepower and 472 pound-feet of torque. The XC90 Hybrid also averages 54 miles per gallon equivalent with an electric charge range of 14 miles to help get you from Duarte to West Covina without spending a fortune at the pump.
Standard and Optional Features
Not only is the 2019 XC90 Hybrid designed to perform, but this crossover also packs Volvo's latest technology to keep you comfortable during your next carpool. Standard Is all-wheel drive, a power tailgate, dual-zone climate control, power front seats, and remote engine start. Customize your new XC90 Hybrid as well with a list of available options such as upgraded quad-zone climate control, heated seats, an onboard refrigerator, and air suspension for a smoother ride throughout town.
Safety
Volvo is known for their commitment to safety, which shows in the 2019 XC90 Hybrid. This SUV comes with available safety features such as head-up display, adaptive cruise control, blind-spot monitoring, rear parking sensors, and automatic emergency braking.