New Volvo XC90 Inventory Near Los Angeles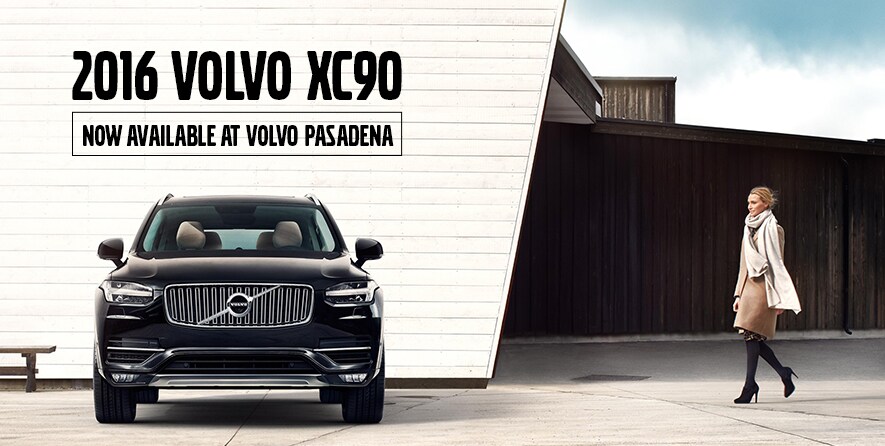 The advertised price and any advertised finance terms for this vehicle expire at the close of business 2/1/2023.
Discover a Spacious, Eco-Friendly SUV in the New Volvo XC90 From Rusnak Volvo Cars
Are you looking for a new SUV that is reliable, good-looking and capable? Volvo is known exclusively for producing models that fit these criteria. The new Volvo XC90 is a top SUV model that can hold up to seven passengers, is available as a plug-in hybrid and boasts elegant aesthetics for a premier look. If we are describing exactly what you are searching for in a new SUV you're in luck, because the new Volvo XC90 is currently available here in Pasadena.
What's New for the 2023 Volvo XC90?
Although the Volvo XC90 has been a top choice for buyers near West Covina for years, we're excited to see its 2023 release. There aren't many details on the exact features that will be included on the new 2023 Volvo XC90, but we have a pretty good idea of what we can expect when it arrives later this year.
We expect that the standard T5 and T6 engines will be replaced with the new B5 and B6 mild-hybrid powertrains. A new and improved infotainment system that is supported by Google is also anticipated. Still, this SUV is expected to add continuity to its elegant and sleek styling, integrated tech systems and substantial driver aide enhancements that come standard.
Available Trim Levels and Features
As a midsize luxury SUV, the new Volvo XC90 has plenty of trims to choose from that allow buyers across the Los Angeles area to personalize their vehicle ownership experience. The base model trim is known as the Momentum in its gasoline powertrain layout. If you prefer the same model with the Recharge hybrid powertrain, this trim is referred to as the Inscription Expression. This Recharge setup consists of a plug-in hybrid layout that allows drivers to travel up to 18 miles on electric power before intuitively switching to gasoline fueling.
Up next in the Volvo XC90 lineup is the midline R-Design. This trim offers a sporty look with a premium interior and sharp accents. In this trim, you'll find 20-inch wheels with black trim and leather upholstery with sport seat trimming. Rear sunshades provide passenger comfort, while a 14-speaker audio system by Harman Kardon blasts out tunes for entertainment.
At the top of the lineup for the Volvo XC90 sits the premium Inscription trim. This model consists of a T6 engine or Recharge powertrain setup option, as well as some of the strong features of the R-Design. Premium leather upholstery, ambient interior lighting, chrome trim and heated and ventilated seats are just a few highlights this model incorporates in its design and functionality. Simply put, this trim takes all the unique and prestigious elements set forth in lower trims and refines them to benefit Duarte shoppers who prefer a luxurious driving experience.
Explore the New Volvo XC90 at Rusnak Volvo Cars
If you live anywhere near Los Angeles, you should make Rusnak Volvo Cars a top priority in your new Volvo XC90 search. With top quality inventory, multiple options to choose from and an incredible sales team, we make it our goal to get our customers into the vehicle they desire. We can provide advice and financing options for buyers who are interested in getting into a new Volvo XC90 as soon as possible. Plus, we invite you to speak with our service team to see who could be taking care of your new luxury SUV. Stop by Rusnak Volvo Cars, peruse our online inventory or give us a call to schedule a test drive in a new Volvo XC90. We aspire to help get you into a new Volvo XC90!